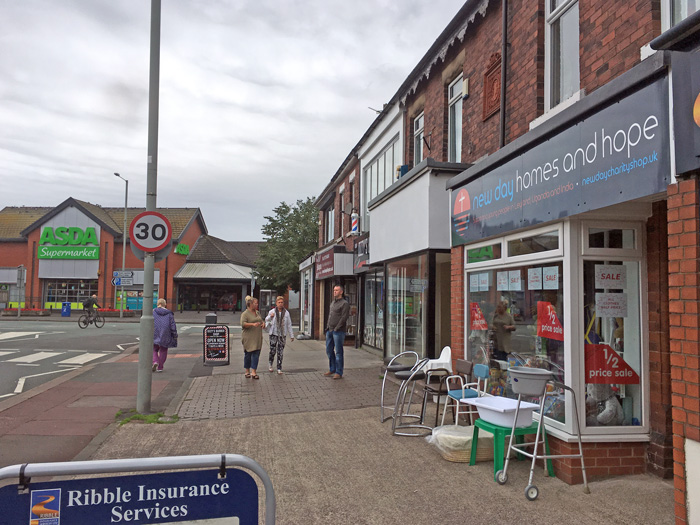 We are delighted to announce that since Monday, 12th April 2021 we have been open for business once again!
We first opened in June 2019 and our customers really appreciate our great deals and a warm, friendly welcome! Why not pop in to 9 HOUGH LANE, LEYLAND, PR25 2SB! 01772 457343
Opening Hours: 9.30 - 4.30, Monday to Saturday
(currently closed Thursdays)

Our charity shop serves the communities of Leyland and South Ribble with quality second hand goods whilst raising funds for homeless children & young people across three charities operating at home and abroad.
In less than two years of trading (incuding many months off because of covid-19) we have have been able to send ~£5,000 to our charities as well as covering all of the setting up costs of the shop! Thank you to all our volunteer staff and you, our loyal customers, for making this possible.
We are very grateful for any donations and are always in need of more volunteers - training is provided.
New Day Church underpins the charity shop and our aim is to provide a caring community beyond our church walls where people find love, support and friendship. We believe in helping people fulfil their full potential and run many activities for that purpose. We hope to run a number of programmes above the shop in coming months so please come back soon or ask in the shop for details.
Charities we support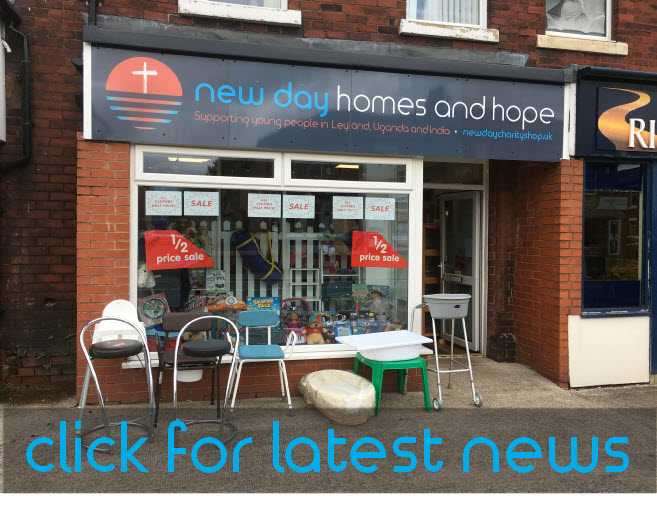 Pages about two of our charities have had to be temporarily unpublished because of the current situation but the following notes provide an update as of Spring 2021.
Brief Covid-19 notes:
The Home of Hope in India continues to care for ~14 children. All children and staff are currently healthy despite the latest coronavirus surge in India. One of the main difficulties is that the charity directors are currently unable to travel to India and are having to manage the charity operations via the internet and Zoom calls from the UK. However, they are in daily contact with the local staff and taking all necessary actions to maintain the smooth running of the home and the care of the children.
The Bulabakulu Children's Village in Uganda and the school are currently closed with only a small number of children and families still living at the village. However, our support continues to help ~30 children from the village with living support and financial assistance as they attend another local school (schools are all fee-paying), as the pandemic situation allows. Support is channelled through AGLM (UK) who are in constant touch with their representatives in Uganda who process the funds for the support of these children. We are hopeful that the Bulabakulu school will restart and it will be possible to continue supporting the other children who were part of the village.
Bulabakulu Children's Village, Uganda
Donations & Volunteers - We would love your help!
We are very grateful for any donations and are always in need of more volunteers - full training is provided.